HMC Int'l. Div., Inc.
by HMC Int'l. Div., Inc.
— SHIPPING OPTIONS —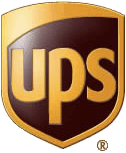 DETAILS:
Our default shipping carrier is United States Postal Service, Priority Mail Flat Rate®, for both domestic and international orders. This is truly the most expedient and economical delivery option.
Domestic orders arrive in 2-3 days. Limited to destinations within the conterminous US.
International orders arrive in 6-10 days. Timeliness of service to destinations outside the conterminous US may be affected by the limited availability of transportation. This includes the domestic destinations of Alaska, Hawaii, and overseas Territories. Most int'l. customers report quicker delivery!
Our handling fee is a very modest $3 USD per order.
Almost 90% of orders can ship in the Small Flat Rate Box (Inside: 8-5/8&quot x 5-3/8" x 1-5/8").
If you are purchasing a larger sized item, or more that 20 units of a smaller item, please choose the Medium Flat Rate Box option.
We can accommodate UPS® if you so desire. If you have a return shipper number, we can use that too.
Your satisfaction is paramount. Do not worry. If you are unsure about anything, have any questions or special instructions, please call or E-mail with your concerns.
If for any reason the actual shipping cost varies from the one placed with your order, we will contact you and explain.
We make every effort to keep our site up to date. However, because a Carrier may make changes without notice, we reserve the right to inform you of any changes as they occur.
For more detailed information, please click on the link above for the Carrier of your choice.
shipping rates
---
---
---
---

... or contact our shipping experts for more information or special requests.

Toll Free: 1-888-794-2510
E-Mail: info@hmc-international.com
---